Quality Assured, Food-Grade Certified!
Customize Your Flavor Experience.
Uncompromising Quality, Trusted Reliability. Experience peace of mind with our
food-grade certified
Syrup Pump

, delivering excellence every time.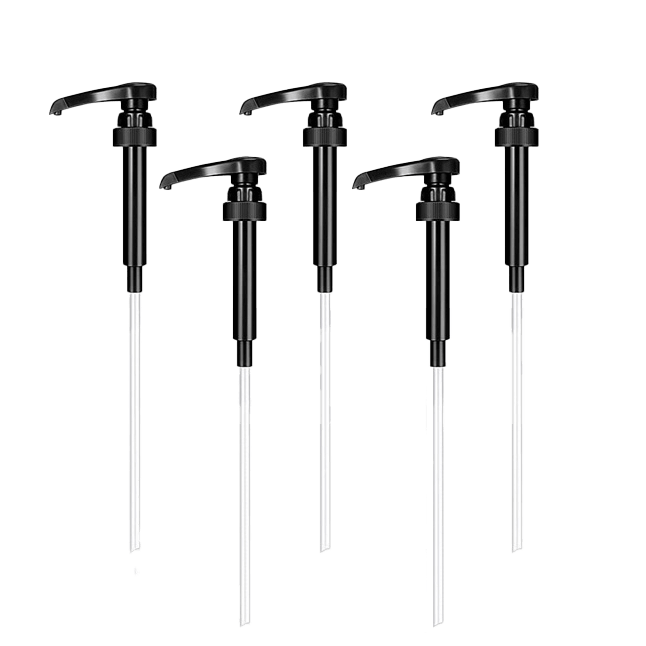 Welcome to Xingyuan Plastic, a leading manufacturer of premium packaging materials industry in China for 20 years. With a strong focus on food pump dispensers, we offer a range of high-quality syrup pumps widely used in the distribution of jams, juices, wines, coffees, and more. Our food-grade certified pump heads ensure precise and reliable dispensing, guaranteeing exceptional flavor preservation and customer satisfaction. Backed by our commitment to innovation, safety, and superior quality, we proudly serve clients of Domestic and international, including jam producers and international traders. Experience our unmatched expertise and elevate your product's packaging with Xingyuan Plastic.
Understanding Your Challenges
We understand the challenges faced by our valued clients in the jam production and trading industry. From accurate dispensing to food grade certifications, we recognize the importance of addressing these issues to ensure optimal product quality and efficiency.
Why Choose Xingyuan Plastic?
Xingyuan Plastic is a leading food-grade syrup pump dispenser manufacturer based in China. With over 20 years of experience in the industry, we are committed to providing high-quality, safe, and reliable products to our customers. Our juice pump heads are made from top-quality materials, and our production process is clean and efficient. Here are some reasons why you should choose Xingyuan Plastic for your coffee pump dispenser needs:
High-Quality Materials: Our food-grade pump heads are made from food-grade PP plastic and 304 stainless steel, ensuring safety and durability for our customers.
Certifications: Our products have passed SGS, FDA, and other certifications, ensuring that our customers receive safe and reliable products.
Large Production Capacity: With 10 injection molding machines and 3 assembly production lines, we have a monthly production capacity of 1 million, ensuring timely delivery of products to our customers.
Clean Production Environment: Our production facility has a 10,000 square meter dust-free workshop, ensuring the cleanliness of our production process and the quality of our products.
Experienced Manufacturer: With over 20 years of experience in the industry, we have the knowledge and expertise to provide our customers with the best products and services possible.
Choose Xingyuan Plastic for high-quality, safe, and reliable syrup pump dispenser that meet your needs.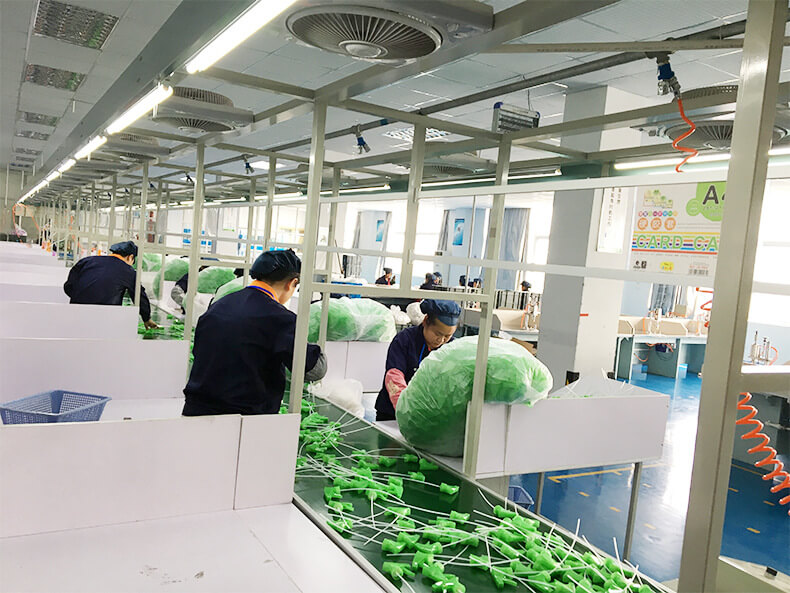 Why Syrup Pump Dispenser?
Tailored Solutions for Optimal Performance
At Xingyuan Plastic, we offer cutting-edge food syrup pump  that deliver unmatched performance and cater to your specific requirements:
Precision Distribution: Our pumps guarantee accurate and adjustable dispensing, allowing you to maintain consistency in your products.
Easy Cleaning and Hygiene: With our food-grade certified materials, cleaning becomes a breeze, ensuring the highest standards of cleanliness and product safety.
Durability and Reliability: Designed for long-lasting performance, the syrup pumps offer exceptional durability and reliable operation, minimizing downtime and maximizing productivity.
Waste Reduction: Our innovative design enables efficient extraction of every drop, minimizing product waste and maximizing your yield.
Adaptability to Different Environments: Our syrup bottle pump are engineered to withstand varying environmental conditions, including temperature and pH levels, ensuring product stability and integrity.
Cost-Effectiveness: We provide high-performance

syrup bottle pump

that strike the perfect balance between quality and cost, delivering long-term value for your investment.
Reliable Seal and Leak Prevention: the syrup bottle pumps are meticulously designed to provide a reliable seal, preventing leaks and contamination, safeguarding your product integrity.
Compatibility and User-Friendliness: Our pump dispenser are designed to be compatible with a wide range of packaging containers, making installation and operation hassle-free.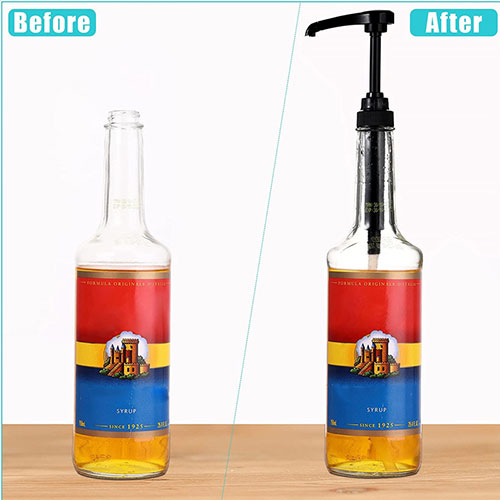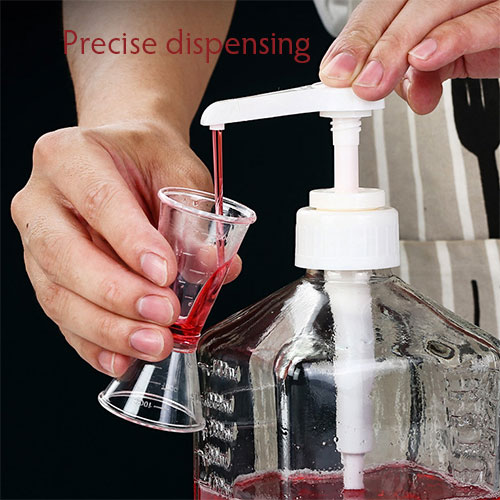 What Do Syrup Pump Dispenser Used For?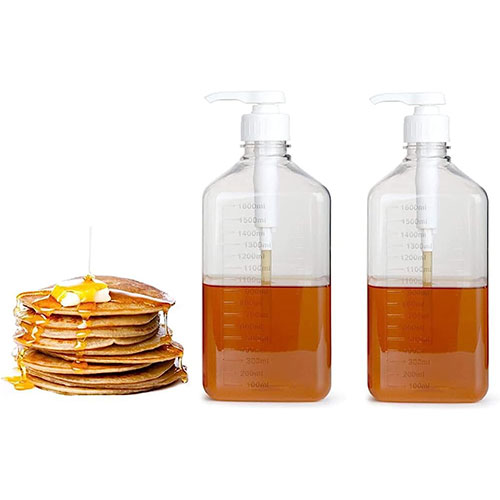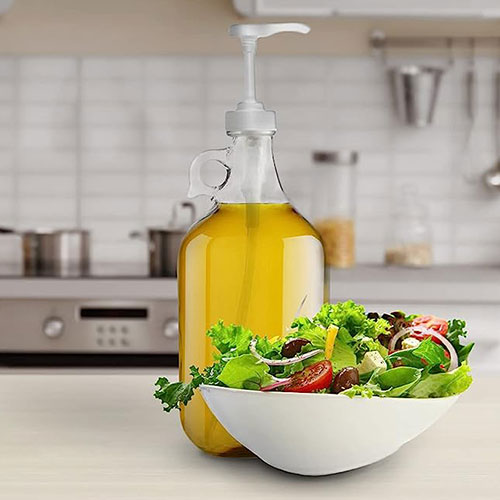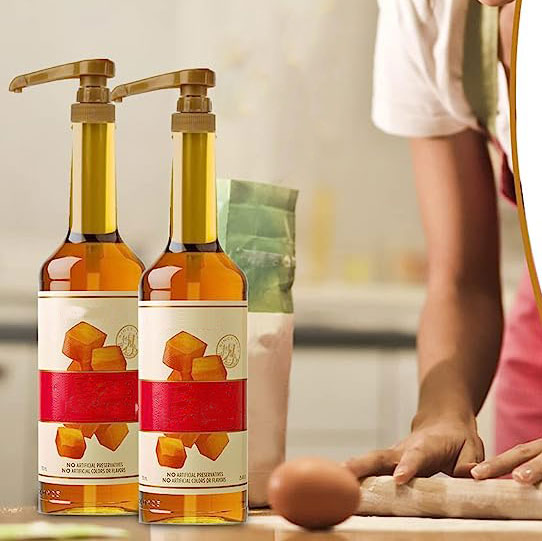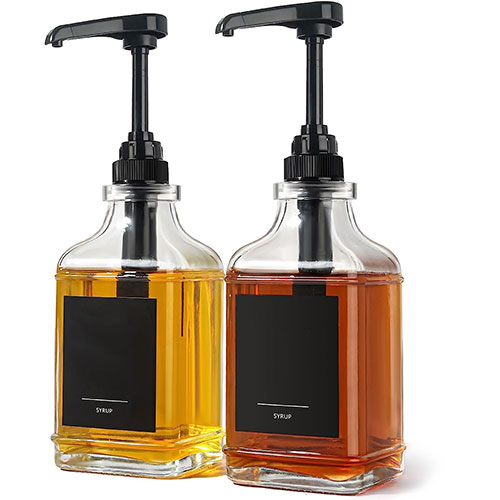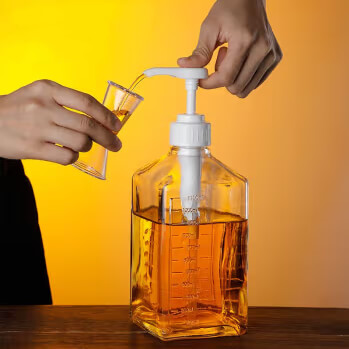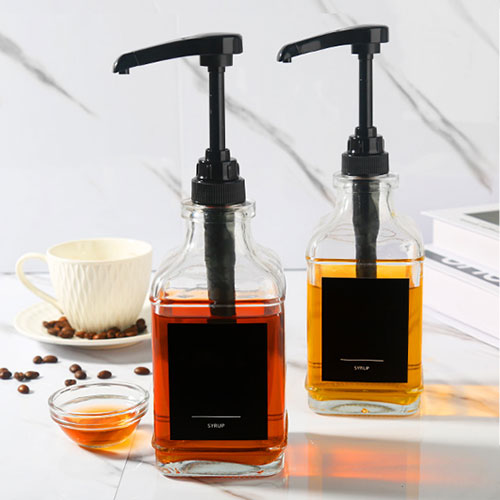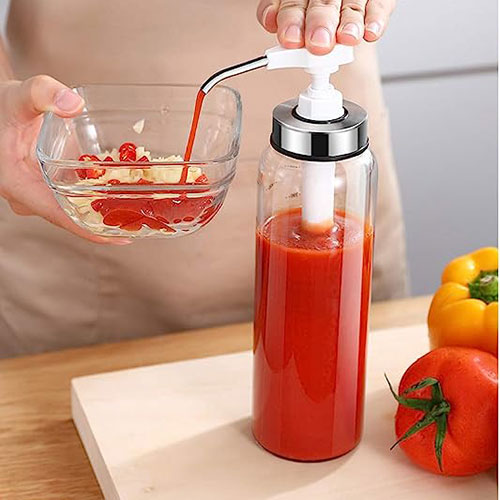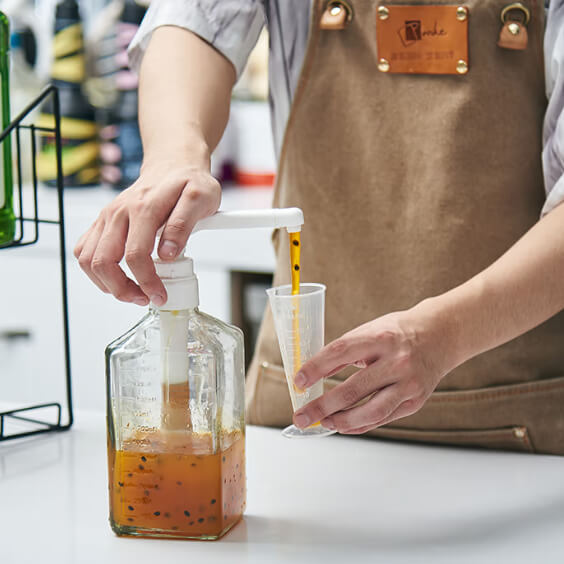 Discover Our Range of Syrup Pump Dispenser
Explore our diverse range of jam pump dispenser, each meticulously crafted to deliver superior performance and reliability. Our products come in various specifications, sizes, and configurations to suit your specific needs. Browse through our product gallery to discover the perfect solution for your jam production and distribution requirements.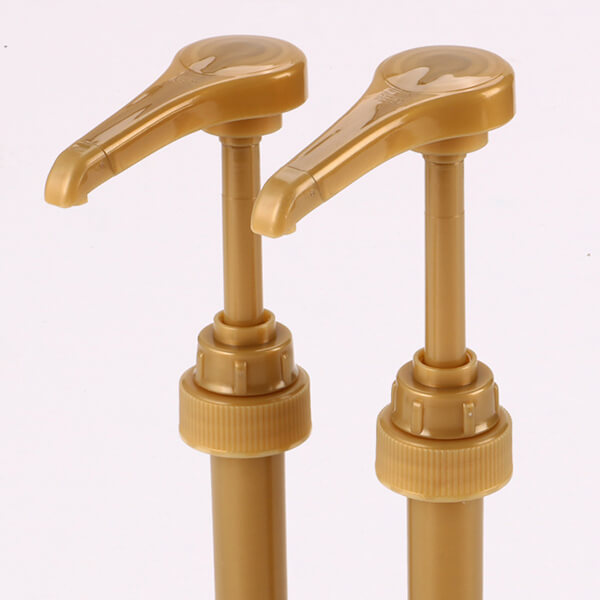 28/400 syrup dispenser
Dosage: 5, 8, 10ml;
Dip tube length: customized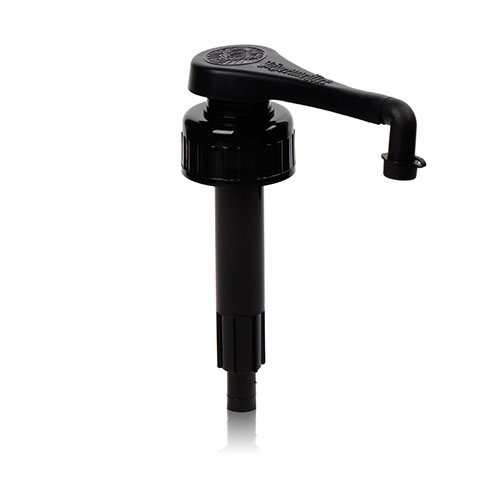 36/410 syrup dispenser
Dosage: 7ml;
Dip tube length: customized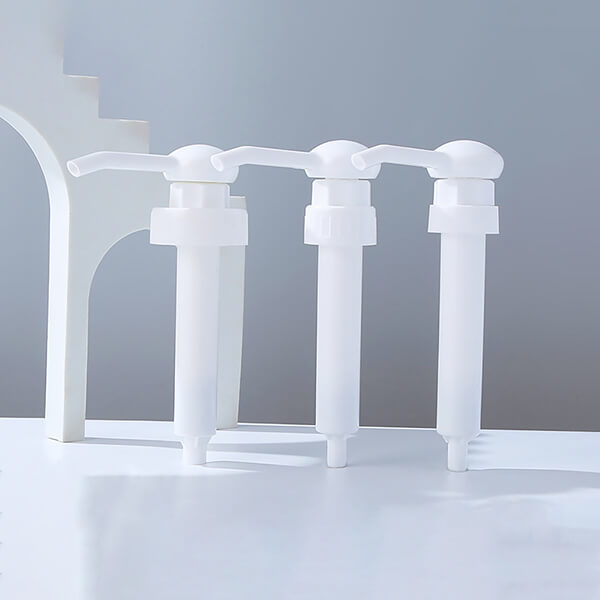 38/410 syrup dispenser
Dosage: 7, 15, 30ml;
Dip tube length: customized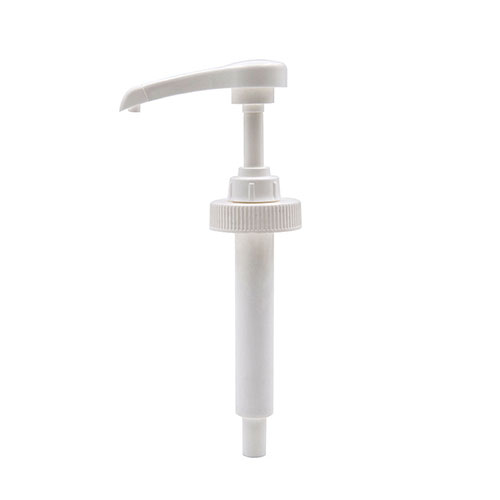 38/400 syrup dispenser
Dosage: 7, 15, 30ml;
Dip tube length: customized
Get Our Latest Catalog
Sign up now to get our full specifications coffee pump dispensers. You can find the properly dispensers by leaving your email address today.
How to Find The Right Syrup Dispenser for Your Bottle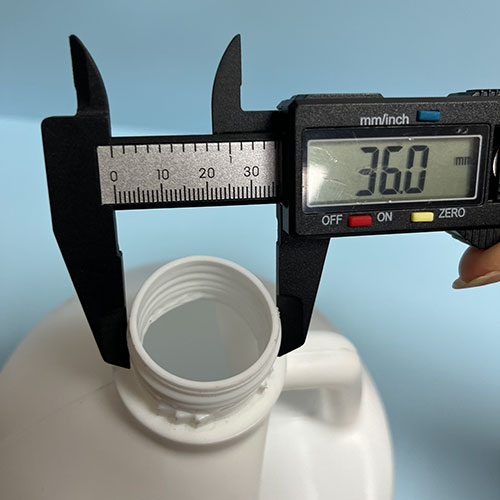 To get the right size syrup pump dispenser for your bottle, you can measure the neck size of the plastic bottle using a vernier caliper, follow these steps:
1. Ensure that the vernier caliper is clean and zeroed before starting the measurement.
2. Open the caliper jaws wide enough to fit around the neck of the bottle, without applying excessive pressure.
3. Gently place the caliper jaws around the outer edge of the bottle neck threads, ensuring that they are aligned and parallel.
4. Gradually close the caliper jaws until they are snugly fit around the neck of the bottle.
We can pick up the right pump dispenser for you according the number you get, and we can provide free samples for testing.
Easy custom Syrup Pump Dispenser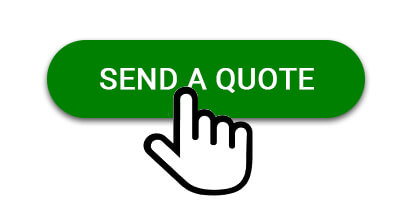 Step 1
Send us a quote
Start by contacting us with your requirements. Our experts will promptly provide information on pricing, features, and options within 6 working hours. Our goal is to establish communication and understanding, laying the foundation for a successful customization process.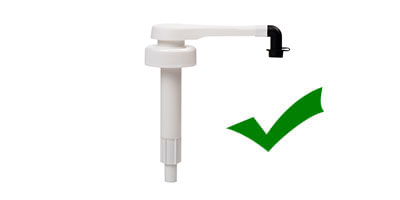 Step 2
Confirm closure size and style
After well communication about your project, we will offer you free samples so you can confirm the closure size and style you'd like, and get a overlook for our product quality. We believe that seeing and touching the product will help you make an informed decision.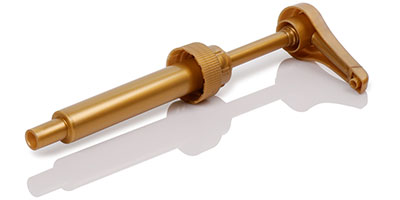 Step 3
Customized Sample
We will proceed to create a sample that is based on your design if needed. This sample will give you an opportunity to assess the quality and ensure that every detail is perfect. Our team takes great care to ensure that the sample is as your need.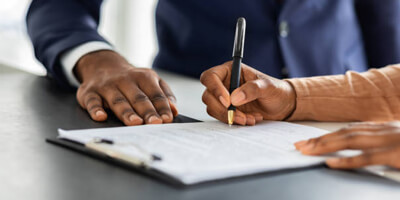 Step 4
Order Deposit Payment
After working together to finalize all the details, it's time to make the deal happen. Let's confirm all the order details, including the quantity, customization options, and delivery timeline, and proceed with the deposit payment. We offer multiple payment methods for your convenience and provide Upon receipt of the deposit, we will ensure that the production is on schedule.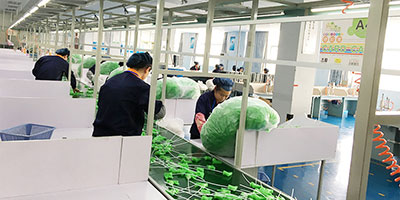 Step 5
Bulk Production
Production will commence in accordance with our strict quality standards. In the unlikely event of any issues arising during the production process, we will promptly communicate with you to discuss the situation and find a solution. Our team is committed to ensuring that the final product meets your expectations and we will work with you to ensure that any concerns are addressed.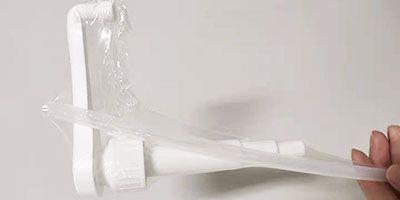 Step 6
Packaging
At Xingyuan Plastic, we understand the importance of proper packaging of syrup pump dispenser. Therefore, we package them individually in self-sealing bags or bulk in bags according to your requirements, before placing them in standard cardboard boxes. We pay attention to every detail to ensure that our products arrive at your warehouse in high quality and in perfect condition.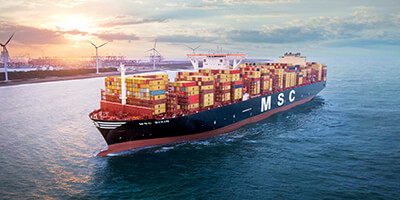 Step 7
Balance and Shipment
When the final quantity of pump dispensers is confirmed, we will send you an invoice for the final payment. Our team provides professional packaging and logistics services, ensuring that your goods arrive safely and securely. We only use high-quality materials and experienced personnel to ensure your satisfaction
Uncompromising Quality and Food-Grade Certification
At Xingyuan Plastic, we prioritize quality at every step. Our products undergo rigorous quality control measures to ensure they meet and exceed industry standards. We proudly hold food-grade certifications, demonstrating our commitment to delivering products that adhere to the highest quality and safety regulations.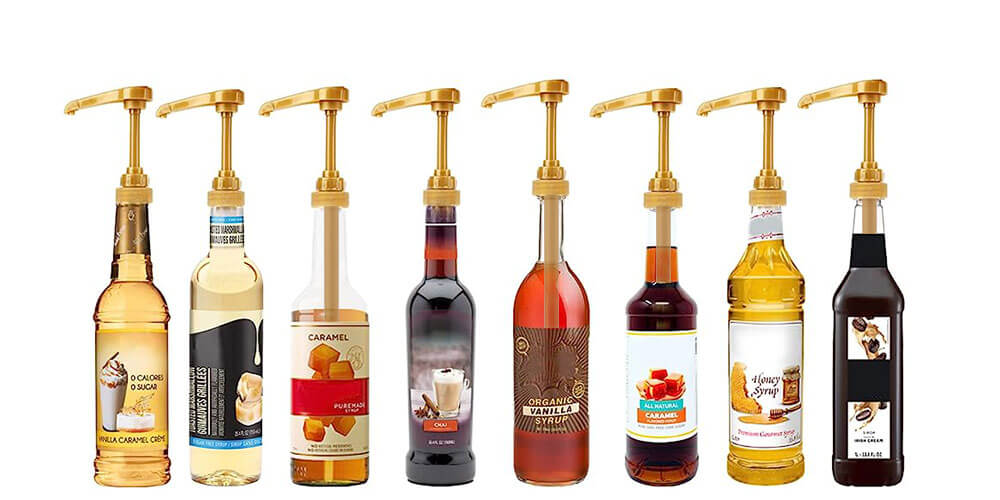 Success Stories: Transforming the Jam Industry
Join the ranks of numerous satisfied clients who have experienced the transformative impact of our food pump heads. Read our success stories to see how our tailored solutions have enhanced product quality, streamlined operations, and increased customer satisfaction for jam producers and international traders.
I am extremely satisfied with the syrup pump dispenser provided by Xingyuan Plastic. The quality is exceptional, and it has greatly improved our syrup dispensing process. The pumps are durable, easy to use, and provide accurate measurements every time. Your customer service has been outstanding, promptly addressing any questions or concerns. I highly recommend your syrup pump dispenser for its superior quality and excellent service.
About Xingyuan: Your Trusted Packaging Partner
Guangzhou Xingyuan Plastic Manufacturing Co., Ltd. is a trusted name in the packaging industry, renowned for our commitment to quality and customer satisfaction. With years of experience and a dedicated team of professionals, we bring expertise, innovation, and personalized solutions to our valued clients. Partner with us and experience the difference in your packaging solutions.
1. Are your syrup pump dispensers certificated?
Yes, our products have passed SGS, FDA, and other certifications. We can provide free sample for you testing.
2. Can I print my brand logo on the dispenser?
Yes, we provide custom service with customized color, printing on the top or on the screw cap.
3. What is the minimum order quantity for your PETG bottles?
The typical minimum order quantity is 5000 PCS. If your need to custom your sauce pump dispenser, it will be 10k PCS.
Take your business to the next level with our syrup pump dispenser
 Streamline your operations and provide consistent, mess-free syrup dispensing to your customers. Maximize efficiency and accuracy in every pour. Elevate your beverage service and enhance customer satisfaction. Contact us today to order your syrup pump dispenser and take your business to the next level.