Get your hands on the best




foam pump bottles

in the market
Our foam pump bottles are the best you can find.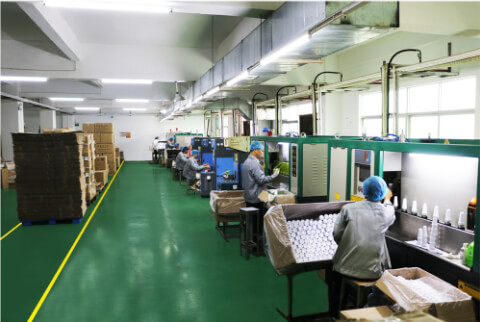 Welcome to Xingyuan Plastic – a Chinese cosmetic packaging bottle factory, where we specialize in producing and wholesaling plastic foam pump bottles. Our team has over 15 years of experience in the industry and offers professional and comprehensive customized services to meet all your packaging needs. We prioritize quality and efficiency, ensuring timely delivery and customer satisfaction. Our clients include domestic and international cosmetic brands, as well as packaging material trading companies. With our foam pump bottles, you can elevate your products to the next level with an elegant and functional design. Trust us to provide you with the best products and services in the market. Join us today and experience the difference.
Hot Products According our Customers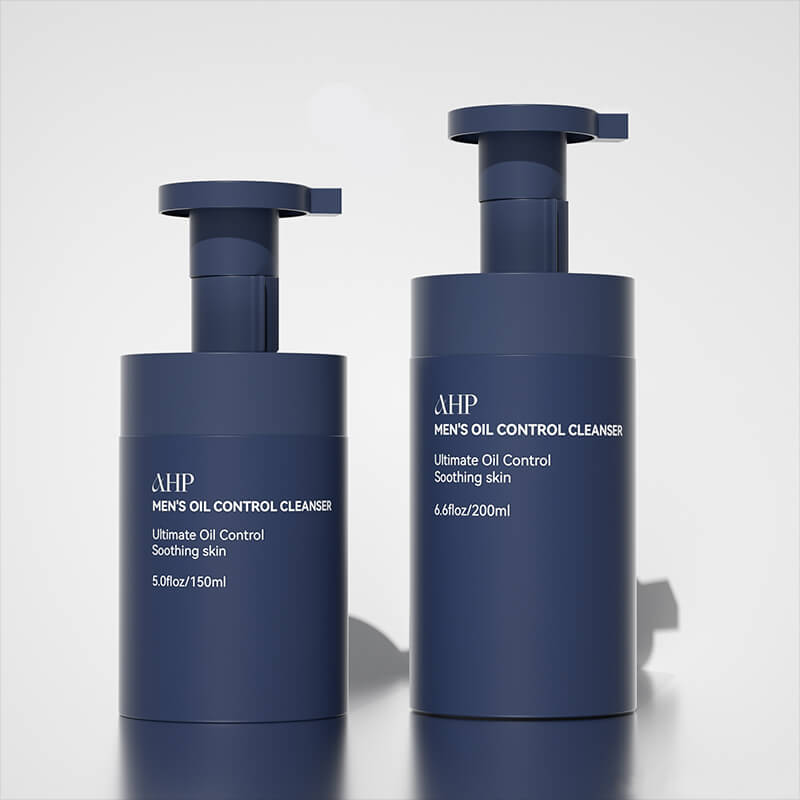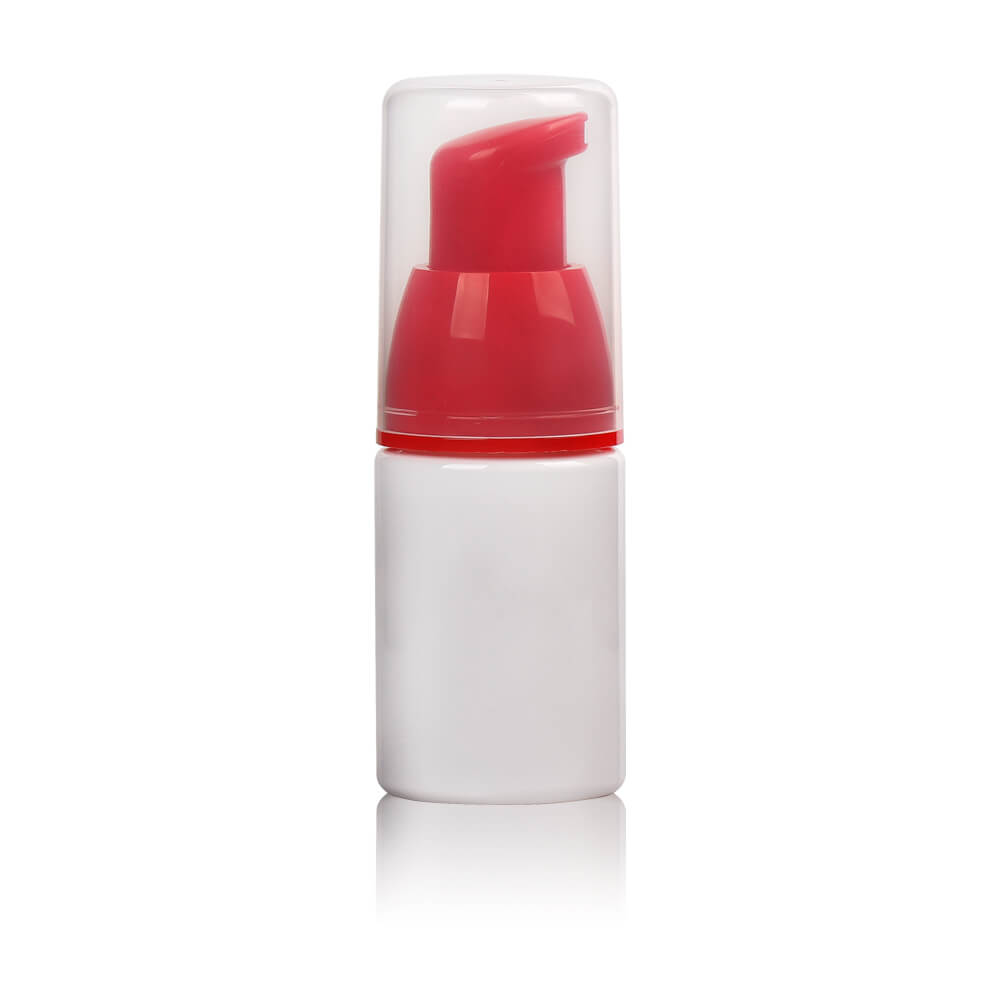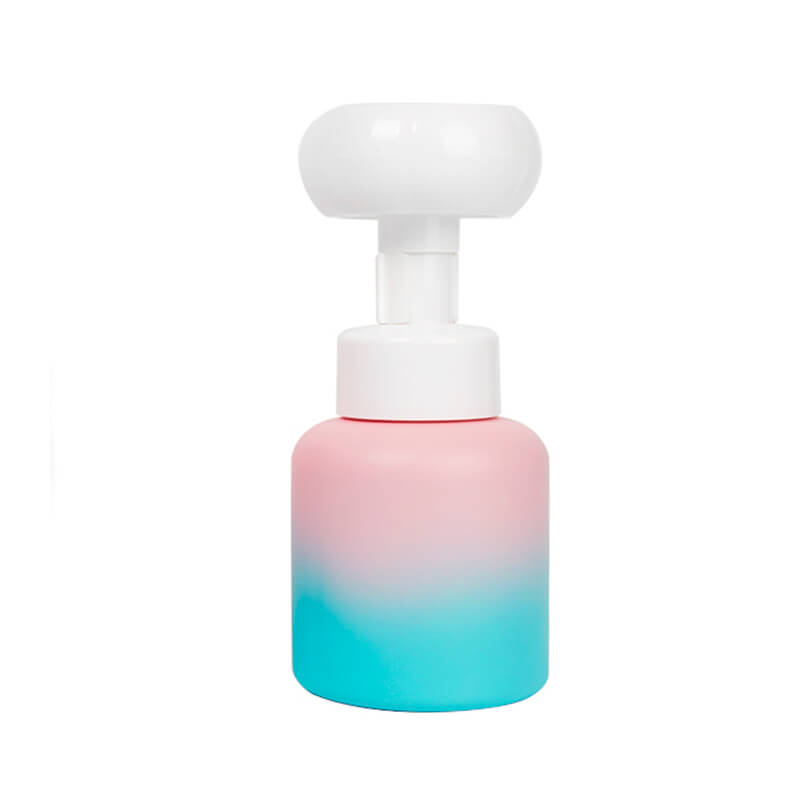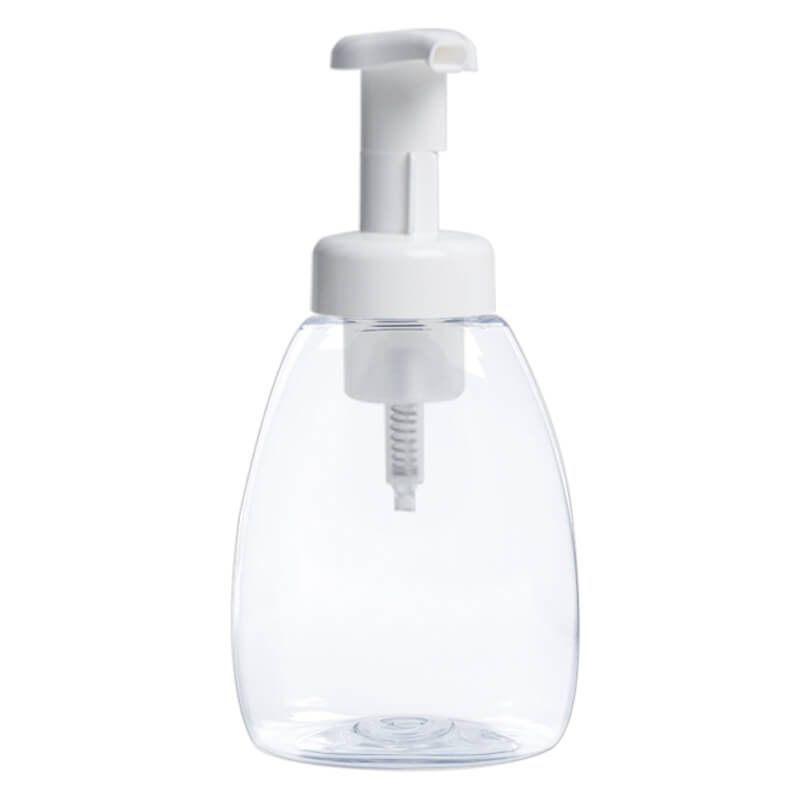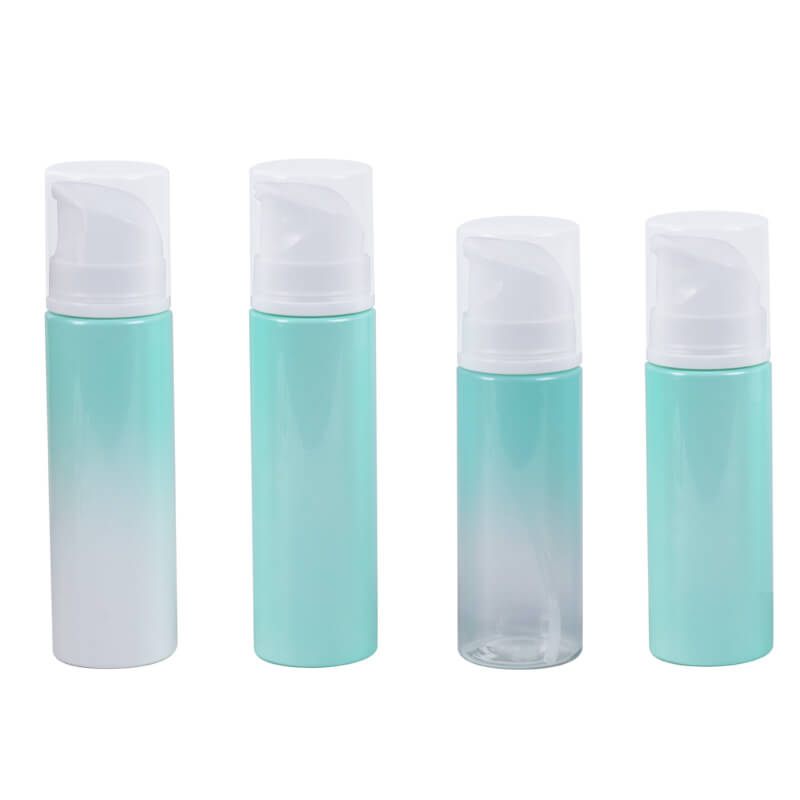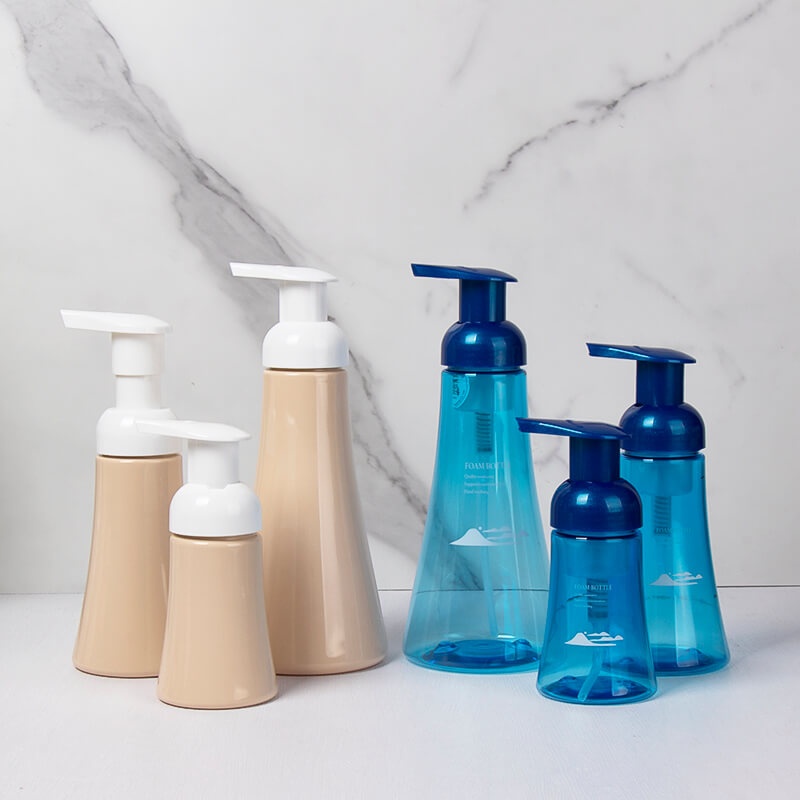 We take pride in providing high-quality foam pump bottles that cater to our customers' needs. Our best-selling foam pump bottles include men's shaving foam, baby foam bath wash, facial cleanser foam, and disinfectant foam bottles. We understand that every customer has unique packaging requirements, and that's why we offer a comprehensive one-stop customized service. Our experienced team will work closely with you to understand your needs and provide expert advice on the best materials, designs, and colors to suit your brand. We offer a wide range of customization options, including bottle shape, size, color, and label design, to ensure your packaging stands out on the shelf. With our fast supply and quality assurance, you can trust us to deliver your customized foam pump bottles in a timely and efficient manner. Join us today and experience the difference of our customized services.
Get Our Latest Catalog
Be the first to know about our latest products and services. Leave your email address now and receive a free download of our catalog. Stay informed with our comprehensive selection of options that cater to your needs. Leave your email address now and start exploring.
Why Choose Xingyuan Plastic?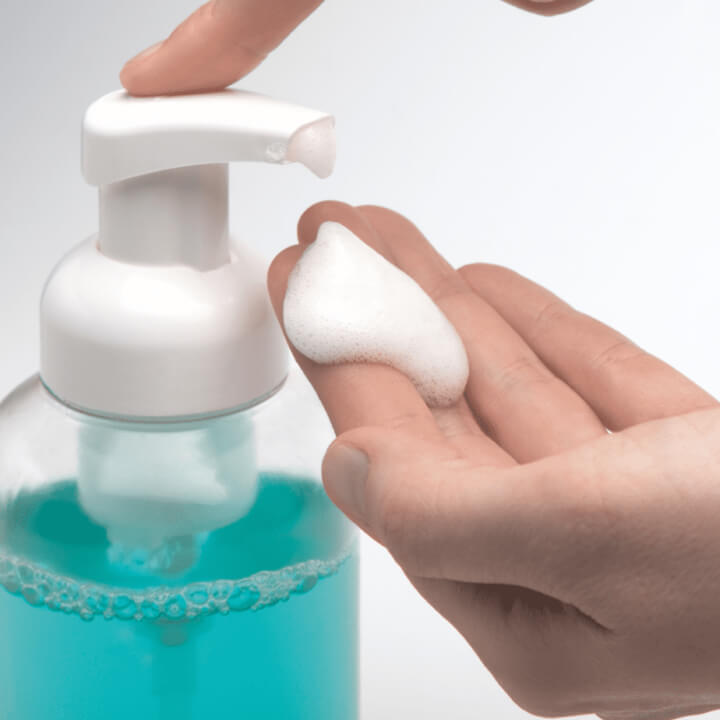 As a reputable cosmetic packaging manufacturer based in China, and we specialize in producing top-quality foam pump bottles. Our company boasts over two decades of experience in the industry, and we pride ourselves on offering an extensive selection of foam bottle styles to cater to diverse customer requirements. Our products are renowned for their exceptional durability, reliability, and performance. We strive to provide our customers with the best possible service and products that exceed their expectations.
Here are some reasons why you should choose us as your partner:
Wide range of bottle styles – meet what you needs.
Customized design options – one-stop service.
Competitive prices – directly from Chinese manufacturer.
Large production capacity – on time delivery.
Professional team – management and efficient services.
Quality control – ensure all products meet international standards
Contact us today to update your packaging with our quality foam bottles.
Types of foam pump bottles
Our range of foam pump bottles is designed to cater to the specific needs of cosmetic brands, whether it's for different types of cosmetics or various usage scenarios. We offer a comprehensive selection of foam pump bottles, providing your brands with a versatile packaging solution to meet their unique requirements.

Foaming hand soap bottles
We can provide various styles of foaming hand soap bottles that are suitable for both household and public use. Our products are of high quality, reliability, and performance stability, which can meet your various needs. Our bottles are made of advanced production technology and high-quality materials, ensuring long-lasting durability and excellent performance. We also offer personalized customization services to meet your different needs.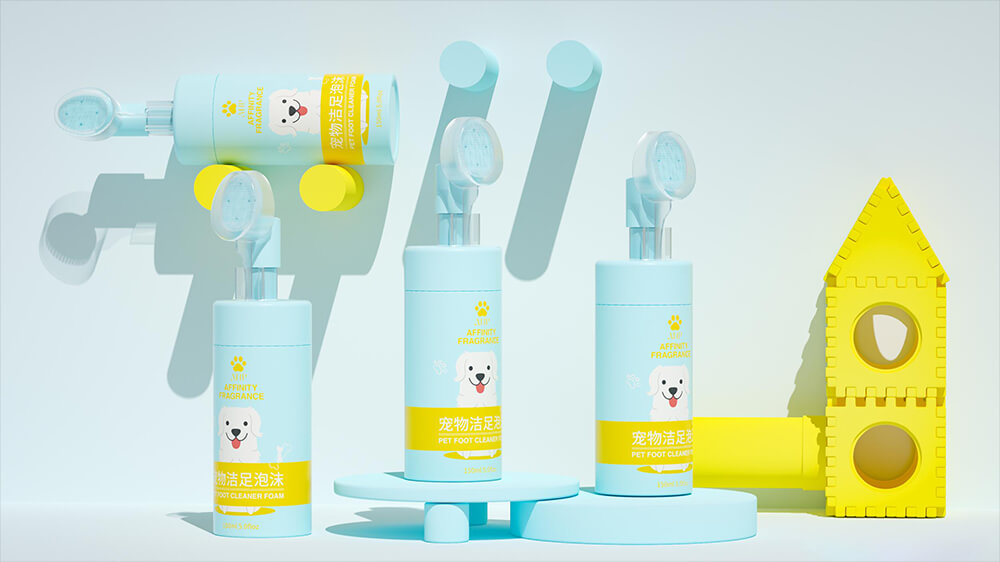 Foaming cleanser bottles
Foaming cleanser bottles are our regular products, mostly made of PET material. We can customize the color, decoration process, and matching foam pump according to your brand. Our PET material bottles are eco-friendly, lightweight, and shatter-resistant, making them an excellent choice for packaging your foaming cleanser products. With our professional customization service, you can have your own unique packaging that perfectly matches your brand image. Let us help you stand out in the market.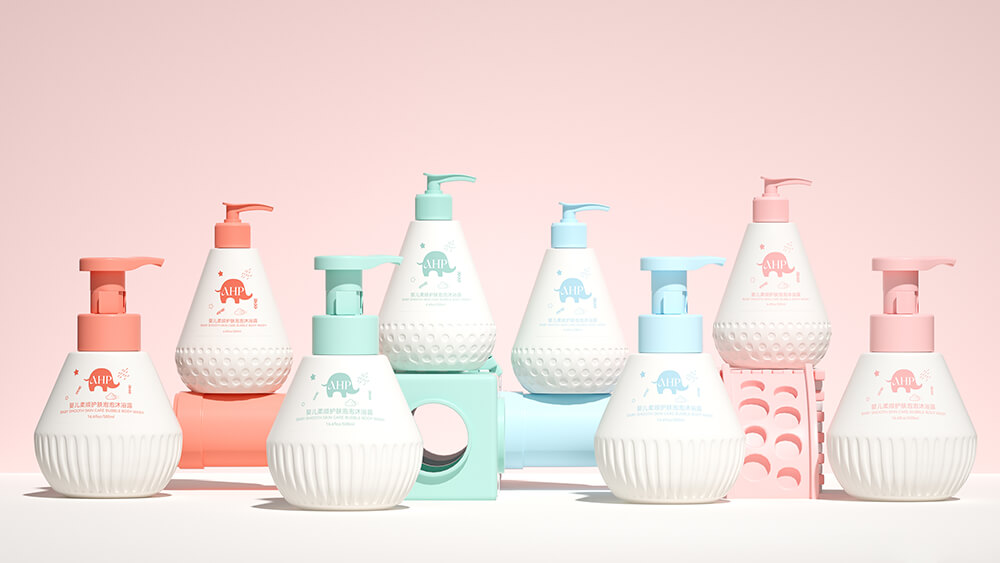 Foaming shampoo bottle
Foaming shampoo bottles are currently very popular, especially in the packaging of personal care products for the mother and baby series. Our company offers free bottle design services to help your products stand out from the competition. Our bottles are made of high-quality materials and advanced production technology, ensuring excellent durability and performance. With our personalized customization service, you can create your own unique foaming shampoo bottle that perfectly matches your brand image. Trust us to provide you with the best quality products and services, and let us help you create eye-catching packaging that will capture your target audience's attention.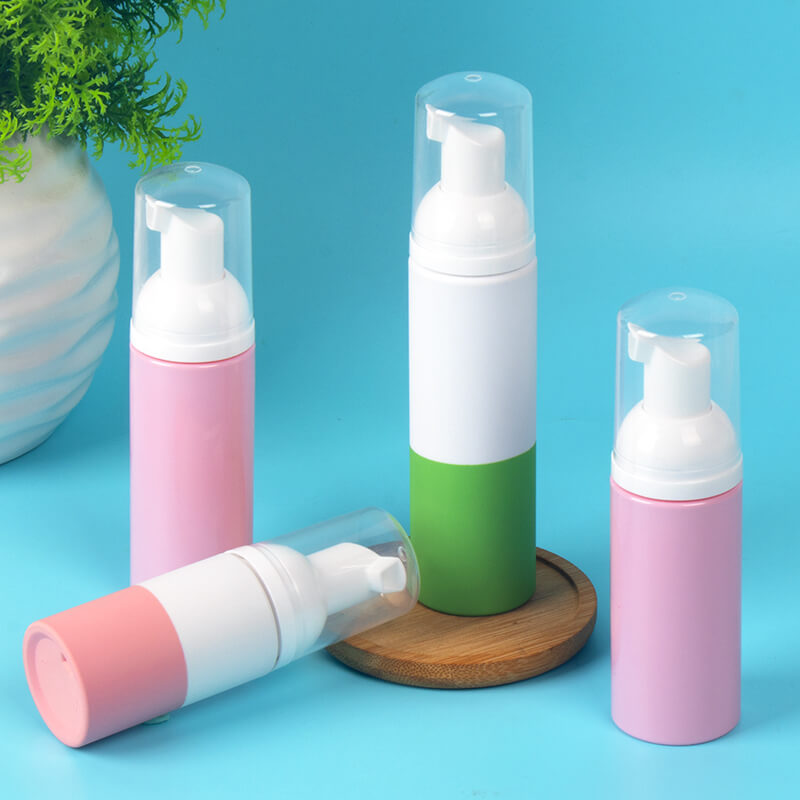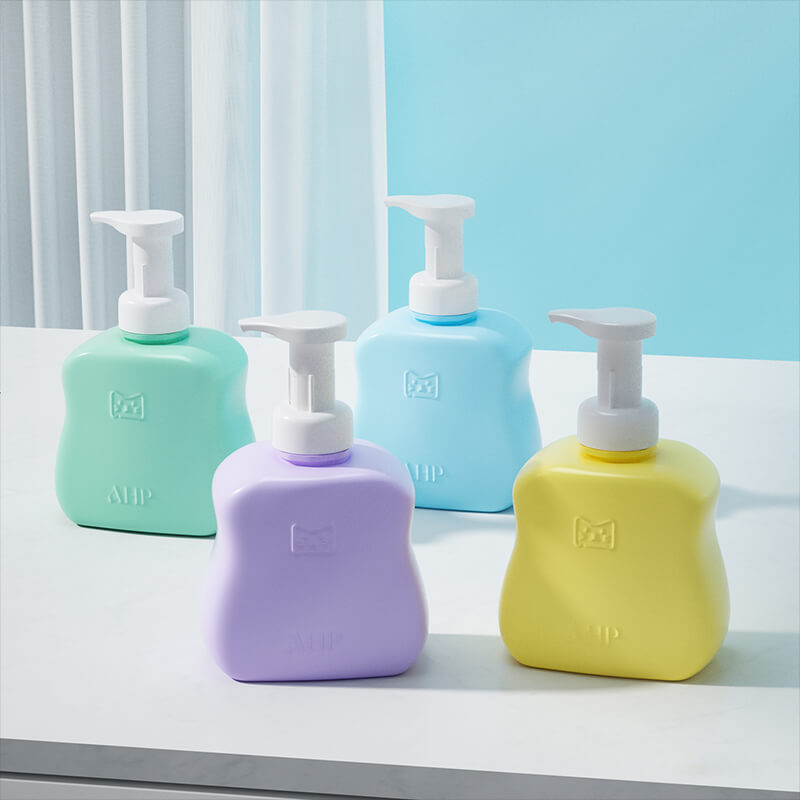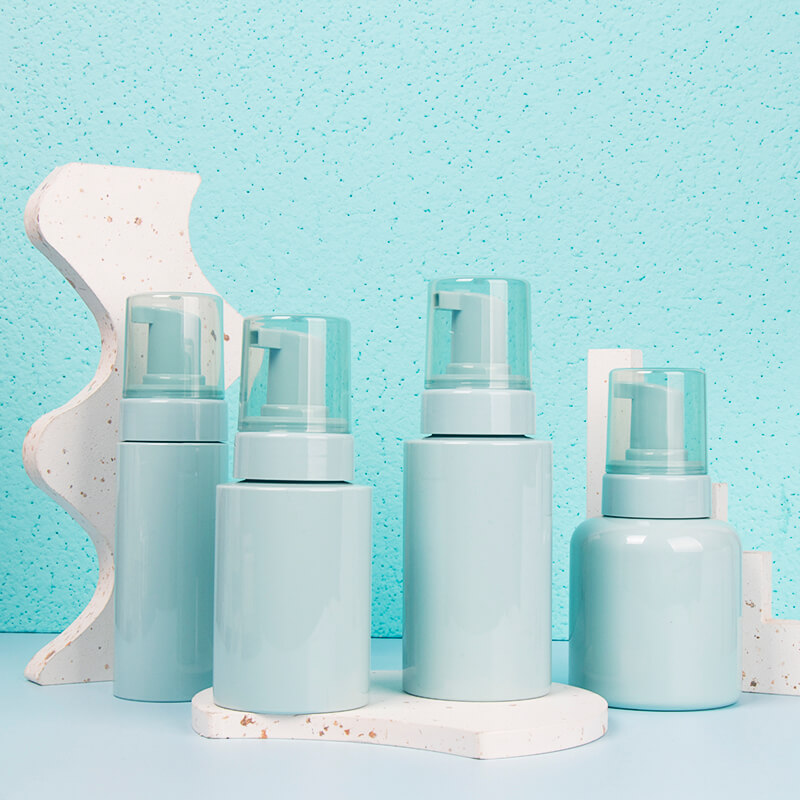 Foam pump bottles are available in three neck sizes: 30mm, 40mm, and 43mm. These neck sizes correspond to different types of foam pumps that can be used with them, and each type of foam pump offers unique features and benefits. For example, a 30mm neck size is commonly used for smaller foam pump bottles, while a 43mm neck size is typically used for larger foam pump bottles. It is important to select the appropriate neck size for your foam pump bottle to ensure compatibility with your desired.
Types by plastic materials
Foam pump bottles can also be categorized by the plastic materials used in their construction. The two most commonly used plastics for foam pump bottles are PET (polyethylene terephthalate) and HDPE (high-density polyethylene).
PET foaming bottle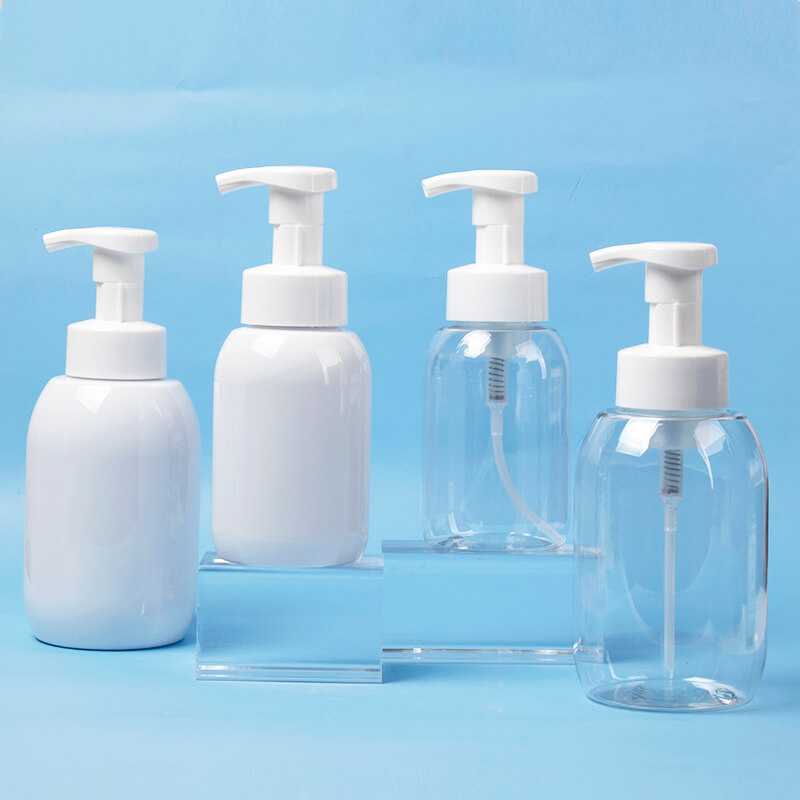 PET foam pump bottles are lightweight, shatter-resistant, and have excellent clarity, making them an excellent choice for packaging cosmetic products. They are also recyclable, making them an eco-friendly option for customers who are environmentally conscious.
HDPE foaming bottle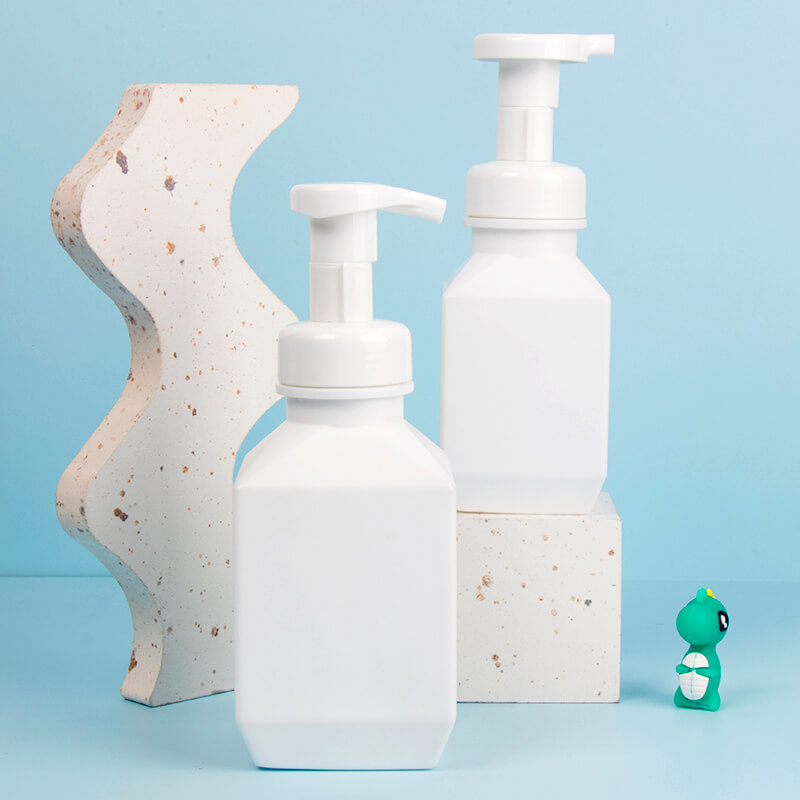 HDPE foam pump bottles are more durable and impact-resistant than PET bottles, making them an excellent choice for products that require a higher level of durability. They are also resistant to chemicals, making them ideal for packaging products that contain harsh chemicals or ingredients.
What are foam pump bottle used for?
Foam pump bottles are widely used to packing foaming products:
Liquid soap
Hand sanitizer
Facial cleansers
Children Shampoo
Shaving cream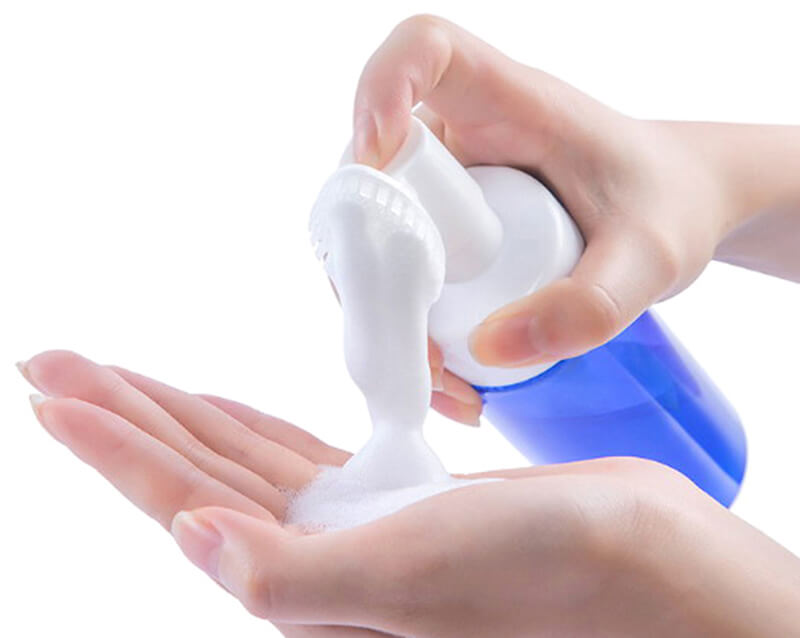 Tips:
When you decide to use foam bottles for your products, here are somethings you need to know:
Foam dispensers is not suitable for normal lotions or shampoos.
Your liquid should be Good liquidity.
Your products can not contain solid particles.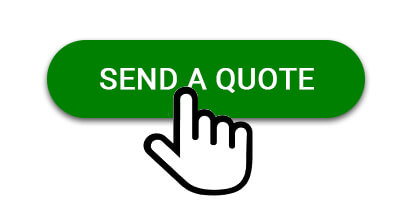 Step 1
Send us a quote
Start by contacting us with your requirements of foam bottles. Our experts will promptly provide information on pricing, features, and options within 6 working hours. Our goal is to establish communication and understanding, laying the foundation for a successful customization process.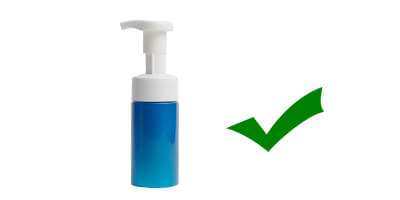 Step 2
Confirm type and style
After well communication about your project, we will offer you free samples so you can confirm the type and style of foaming pump bottle you'd like, and get a overlook for our product quality. We believe that seeing and touching the product will help you make an informed decision.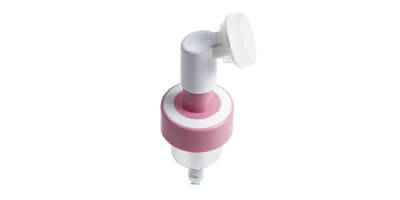 Step 3
Customized Sample
We will proceed to create a sample that is based on your design. This sample will give you an opportunity to assess the quality of the bottle and ensure that every detail is perfect. Our team takes great care to ensure that the sample is as your need.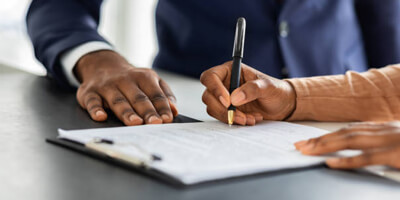 Step 4
Order Deposit Payment
After working together to finalize all the details, it's time to make the deal happen. Let's confirm all the order details, including the quantity, customization options, and delivery timeline, and proceed with the deposit payment. We offer multiple payment methods for your convenience and provide Upon receipt of the deposit, we will ensure that the production of the foaming dispenser is on schedule.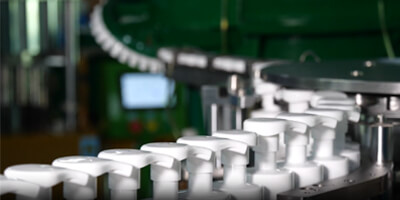 Step 5
Bulk Production
Production of the foam soap dispenser will commence in accordance with our strict quality standards. In the unlikely event of any issues arising during the production process, we will promptly communicate with you to discuss the situation and find a solution. Our team is committed to ensuring that the final product meets your expectations and we will work with you to ensure that any concerns are addressed.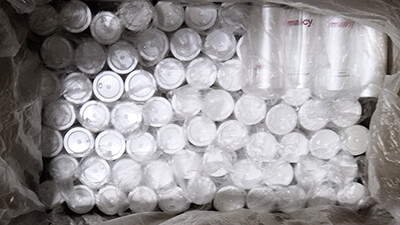 Step 6
Packaging
We recognize the importance of packaging in protecting the product. As such, we offer a range of packaging options to choose from, including bulk packaging, individual packaging, custom-designed packaging, and more. Tell us your need  before the bulk production.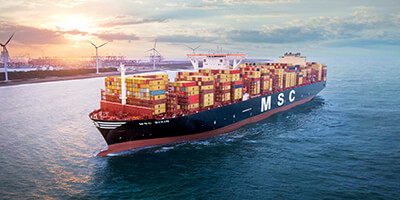 Step 7
Balance and Shipment
When the final quantity of bottles is confirmed, we will send you an invoice for the final payment. Our team provides professional packaging and logistics services, ensuring that your foaming pump bottle arrives safely and securely. We only use high-quality materials and experienced personnel to ensure your satisfaction
Get your customized foam bottle NOW!
How we set your packaging apart
Custom your own style with brand identity
At Xingyuan Plastic, we are committed to providing you with top-notch custom service, helping you to enhance the appeal of your foaming bottle. We offer a wide range of options to help make your product stand out and attract customers.
Firstly, color of foam bottle can be customized as you need, the whole set or parts.
Secondly, we provide kinds of decoration process to ensure your foam bottle attractive enough to jump out the shelf.
Silk screen
Silk screen printing is a popular decoration for cosmetic bottle, which can produce sharp and vivid colors. It is great for instruction printing on the bottle.
Spray coating
Spray coating involves applying a layer of paint or coating onto the bottle surface using a spray gun, which can create a matt or gradient effect. For the matt finish, it create a soft touch feeling, and the gradient effect is an eye-catching solution for cosmetic packaging.
UV printing
UV printing is a digital printing process that uses UV-cured ink to produce high-quality and durable images on the bottle surface, which can resist scratching and fading.
Labeling
Labeling is a simple and cost-effective way to decorate the bottle surface by applying adhesive labels onto it. It can be printed with various colors, patterns, and texts. The labels can be made of paper, plastic, or other materials, and can be cut into different shapes and sizes.
Hot stamping
Hot stamping is a process of transferring a metallic or colored foil onto the bottle surface using heat and pressure, which can create a shiny and luxurious appearance to attract customers' eyes. Hot stamping is usually used for LOGO printing.
Electroplating
Electroplating involves depositing a thin layer of metal onto the bottle surface to create a reflective or metallic effect, such as gold, silver, or chrome. It can create a shiny appearance, usually used for the dispensing pump or screw cap of closures.
Liquid VS foaming soap bottle
When it comes to soap packaging, there is a choice between using liquid soap bottles and foaming soap bottles. Both options have their advantages and disadvantages.
Liquid soap bottles are commonly used for a wide range of products, including hand soaps, body washes, shampoos, and conditioners. They are versatile and can accommodate different types of dispensing pumps, making them convenient for customers to use. However, liquid soap bottles may require a higher amount of product to be dispensed compared to foaming soap bottles, which can lead to more waste and higher costs.
Foaming soap bottles are becoming increasingly popular due to their unique dispensing mechanism, which creates a rich and luxurious foam that is easy to spread and rinse off. They are particularly suitable for hand soaps and facial cleansers. Foaming soap bottles use less product than liquid soap bottles, which can lead to cost savings and less waste. However, they may not be suitable for thicker products, such as hair conditioners or body washes.
At Xingyuan Plastic, we offer both liquid soap and foaming soap bottles to cater to the diverse needs of our customers. And we offer a variety of soap bottle styles in each type, and we can also provide personalized customization services to meet your unique needs.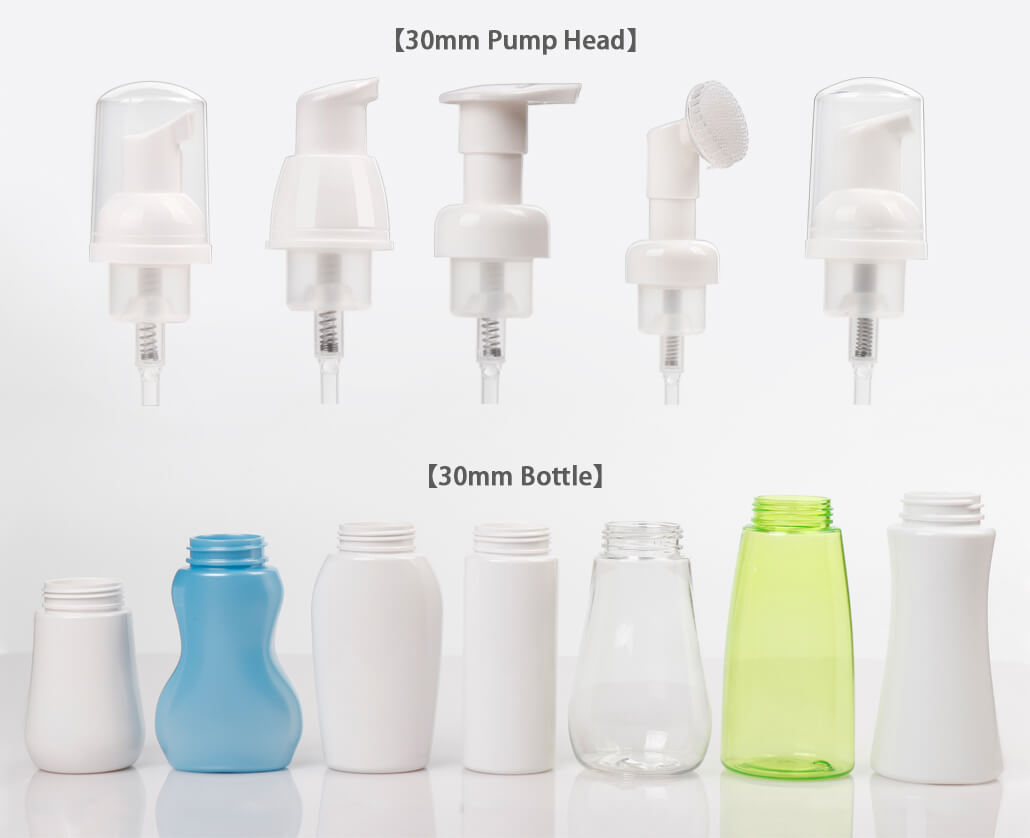 I have been purchasing foam pump bottles from Xingyuan Plastic for several years now, and I must say that they are one of the best suppliers I have ever worked with. Their products are of the highest quality and always meet my expectations. The delivery time is also very prompt, and they always keep me updated on the status of my orders. I am very satisfied with their services and would highly recommend them to anyone looking for reliable and high-quality foam pump bottles.