Elegant PET Foaming Sanitizer Bottle with Foam Pump
Our elegant foaming pump bottle is make from original plastic. With the beautiful design, the bottle is stable on the table. And with the fine bubbling foam pump, the bottle is ideal for housing sanitizer, facial cleanser, etc. This series of bottles has three capacities: 100, 170, 370ml, these bottles can be compatible our 40mm foaming pump, feel free to contact us finding out more fantastic packaging bottle for your products.
| | |
| --- | --- |
| Brand | |
| Capacity | |
| Color | |
| Lead Time | |
| Order(MOQ) | |
| Payment | |
| Product Material | |
| Product Origin | |
Elegant PET Foaming Sanitizer Bottle with Foam Pump
Extra Information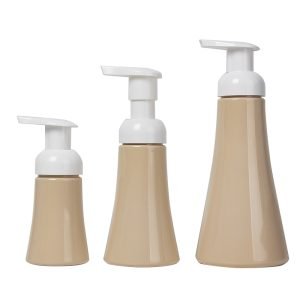 Diameter(max): 52mm, 65mm, 78mm
Height: 103mm, 125mm, 157mm
material: bottle: PET, sprayer pump: PP
finish: glossy, matt
usage: hand soap, facial cleanser, baby shampoo
Distinct style: the uniqe foaming bottle looks so elegant, helps your product get attractive on the crowded shelf.
Customized: the foam bottles can be customized, including weight, color. Xingyuan gets many foam pumps match this bottle.
One-stop sourcing service: Xingyuan provides high quality suface processing including silk printing, hot stamping, labeling, spray coating. You can fullfill your idea of your product here, and enjoy the exellent on-stop sourcing experience with Xingyuan.
Tips:

The foaming bottle is refillable, just need to screw the closure up.
Xingyuan has several series of PET cosmetic bottles, can be match with lotion pump, mist sprayer, disc cap, dropper. Just a few types are listed on our website. Please feel free to contact us for more product information by email, telephone, whatsapp, skype, or wechat.
One-stop decoration service is provided, silk printing, labeling, hotstamping, spray coating, etc.
this PET lotion bottle is recyclable, we highly recommand our customers to recycle the container to lessen pollution.
Payment Terms: T/T(30% deposit, 70% balance paid before delivery), Western union, PayPal, L/C . Free sample is available.
Shipping: Normally ocean freight. Air frieght is also OK if time is urgent.

As a professional cosmetic packaging manufacturer and wholesaler, we can serve:

Mould developing: mould design, mould making, etc.
Manufacture of cosmetic packaging: injection molding, blow molding, assembling, labeling, etc.
Packaging design: packaging strategy, structure design, product packaging design, etc.
Purchase cosmetic packaging on behalf of clients: developing suitable manufacturers, procurement execution, delivery services, etc.
Quality inspection: quality standard confirmation, quality inspection execute, third-party inspection service, etc.